Run a dance school and work from home with our new online classes feature. Our new feature, as always, is completely free of charge. Classes can now be setup online and sent to your students within minutes, for any occasion.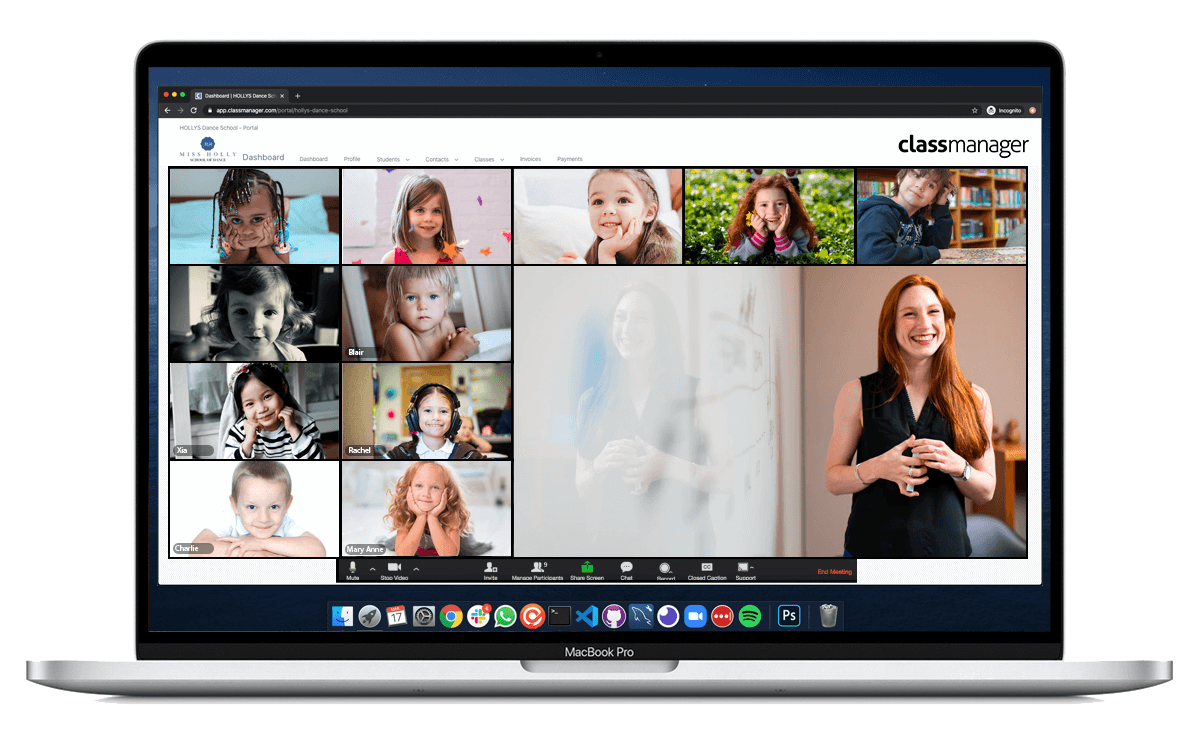 Click image to zoom
For the best experience hosting your classes online we have integrated with Zoom, one of the leading video conferencing providers. (Alternatively you can use another provider, however our branded view would then not be supported).
Benefits of using Class Manager's Online Classes
Class Manager's Online Classes feature gives you the following benefits:
Teach your class remotely.
Easily invite all students to the correct class with 1 click.
Protect yourself with our online video disclaimer/policy, which all students must agree to before joining.
Stay on brand, by default your online class is hosted in your branded portal and doesn't require 3rd party downloads.
---
How do I get Started?
Easy, you can get started in ~10 minutes.
First you'll need to sign-up for a Zoom account.

On Class Manager enable Online Class for the class you want to host online.

Click image to zoom
Create a Zoom meeting for the class and add the meeting details to the class.

Update your Online Video Disclaimer

Send the online invitation to all of your students of that class with one-click in Class Manager.

Click image to zoom
For a step-by-step guide, please see our knowledge base article or reach out to our team for assistance.
---
What will my customer see?
When you send your online invitation your customer will receive an email linking them directly to the portal, ready for when class begins.

Click image to zoom
Before they can join, they will need to agree to your online video disclaimer/policy. If you leave your online video disclaimer/policy blank, this step will be skipped.

Click image to zoom
---
How much does it cost?
As with all Class Manager features, this feature is free! It is worth noting however that Zoom has some limitation on their free plan.
On Zoom Basic (the free plan) if you are hosting to more than 3 participants you have a maximum time limit of 40 minutes.
If you want to overcome this limit you will require the Zoom Pro available at £11.99pm (UK). For full information on pricing please see the Zoom Pricing Page.
---
Alternative providers?
While Class Manager has the best integration with Zoom and supports the use of Zoom. We can facilitate the use of other web conference platforms. It may be advantageous to use a separate platform if you already have an account with them.
Google Meet/Hangouts
If you are a paying customer of Google (Gsuite) Google Meet is certainly another option worth considering. It's extremely easy to use and doesn't require your customers to download anything to stream your content (provided they use Google Chrome browser). Alternatively, if you aren't a paid user of Google, Google Hangouts also have similar functionality.